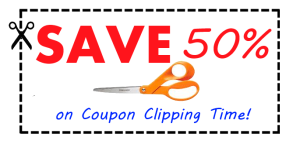 Coupons are a great way to shave lots of money off of your grocery bill and daily expenses. However, time is money for many of us, and hunting down and clipping coupons can be a cumbersome and time consuming task. Some people – and you might be one of these – find that it's not even worth the time to clip coupons, since it takes them so much time!
You don't have to give up on it altogether, though! There are a few different methods that you can use to save time and clip coupons faster.
Use the Internet
By using the Internet, you can drastically cut down on coupon clipping time by finding exactly what you need when you need it. To clip coupons faster, you need to know which coupons are available each week; that way you'll be able to determine if coupons for your preferred products are available and where to get them, which can save you loads of time. Following coupon and deal blogs – like this one! – is one of the best ways to stay informed about which coupons are available and what type of deals you can get at any given time. You can also often find valuable coupons online quickly. Coupon blogs often post about new coupons, and printable coupons can be found on manufacturer websites and Facebook pages.
Multi-task
The great thing about clipping coupons is that it becomes a repetitive and mindless task after a while. While you probably shouldn't clip coupons when you're cooking dinner or driving, you can clip coupons faster if you do it while you're doing something else. For instance, you can clip coupons while watching television or when you're on the phone. That way, it's not eating into time that you need for other responsibilities.
Make It a Family Affair
Everyone in a household benefits from clipping coupons, so it may not be a bad idea to make coupon clipping a family affair. See if others in the household are willing to help you clip coupons faster, at least for the products they want or need. Make sure that anyone you have helping you is careful not to cut the barcodes or expiration dates on the coupons, though. In fact, this may not be the best job for younger children, come to think of it. You might find it difficult to get some help clipping coupons, especially from teenagers, but they might also find it difficult to get clean clothes without laundry detergent… (I'm kidding here!)
Stack Your Coupons
Ooh! A double entendre! By "stack your coupons" here, I don't mean stack them with other coupons to maximize your savings. That'll save you more money, but not time. I mean lay sheets of coupons on top of each other and cut out several at the same time. This works best for Internet coupons printed three to a page, but it can also help you clip coupons faster if you buy several Sunday papers for the inserts. Just make sure that all of the coupons line up with each other before you start cutting, and be careful not to cut the barcodes or expiration dates. Some coupon clippers also staple coupons together (NOT on the barcodes!) before cutting them this way.
Stop Using Scissors
Scissors may seem like the most obvious tool to clip coupons, but they can also be the most time consuming. Trade in your scissors for some fancier tools if you clip loads of coupons each week. A quality guillotine paper cutter is sure to make short work of that stack of unclipped coupons, but even a handheld paper slicer can help you clip coupons faster.
Do you have any tips that you use to clip coupons faster?