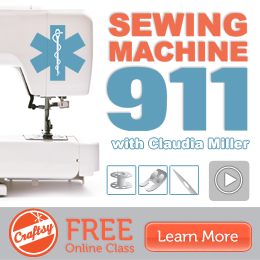 Become a Sewing Machine Master for Free! Learn how to handle your sewing machine with the brand new, free, online Craftsy class, Sewing Machine 911, taught by Claudia Miller, sewing machine MD. In this class, learn how to diagnose your machine's symptoms and how to easily fix the most common issues, including jammed machines, top thread breaks, needle breaks, and more. Claudia also explains the basic parts and functions of every machine. Whether your machine is still in the box, you're working on a hand-me-down, or even if you're an experienced sewist who still struggles with tension, this is the class for you! Plus, it's free, so there's nothing to lose.
Sign up for Sewing Machine 911 now!
What You Will Learn in Sewing Machine 911
How to familiarize yourself with the parts of your machine and how they operate
How to perform basic skills, like threading the machine and winding the bobbin
How to pinpoint signs and symptoms of common problems
How to clean your machine to keep it working well and lengthen its lifespan
This sounds like a great class for kids or beginners!