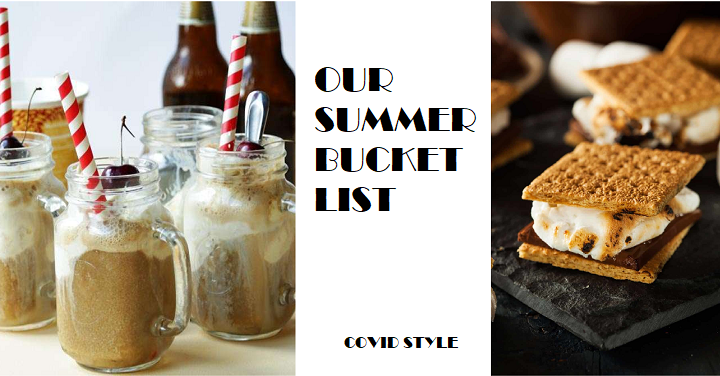 We're officially done with school and while I know not everyone is, we're getting a head start on our family bucket list! This is something we create every summer and check off while we make memories together. This year we had to get creative and make sure our bucket list lines up with things we'll be able to accomplish due to covid restricts and our own personal boundaries we've set. So I wanted to share some of the things we'll be doing this summer:
Make Homemade Ice Cream
Painting Rocks & Hiding Them Around the City
Obstacle Coarse
Homemade Rootbear
Explore a New Hiking Trail
Make a Giant Cookie
Drive-in (living room) Movie Night
Family How To Draw Videos
Make Cupcakes
Read-a-thon
Camp Fire with S'mores
Paint the Girls Room
Look Through Memory Books
Make DVD with old Memories
Send a Loved one a Card
Bake Something Yummy
Serve the Neighbor
Learn Origami
Keep a Summer Journal
Play in the Sprinklers
Sleep in the Family Room
Family Bike Ride
Learn a Magic Trick
Make Oobleck (mix 1 cup water with 1-2 cups cornstartch)
Play the Thimble Game
Complete a Puzzle
Paint Nails
Minecraft Day
Organize the Toy Room (donate old toys)
Do a Science Experiment
Make Friendship Bracelets
Race Paper Airplanes
Learn Calligraphy (or cursive for my kids)
Tie Dye old T-Shirts
Make Fleece Blankets
Star Gaze
Make a New Craft
Hydro Dip Items (spray paint and water)
I am actually really excited about the fun we'll be having this summer. Although we won't be going on a big family vacation or our regular summer fun, this is, dare I saw it, going to be the best summer ever!