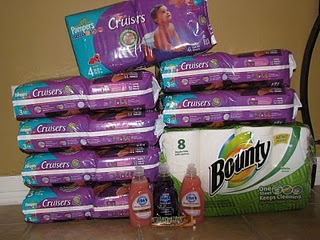 Check out Pheobie's haul from CVS.  She found the Mega packs of Pampers diapers on clearance 75% off or $4.50 each at her local Houston CVS.  She used Vocalpoint coupons and coupons from 7/4 P&G insert to get them for even less.  Sweet find Pheobie!
Here are other clearance finds:
Revlon Creme Gloss Lipstick reg. $9.99, clearanced to $2.49
Used $5/2 Revlon Color Cosmetics CRT
Two free after CRT  (Thanks Money Saving Madness)
Garden items (potting soil, solar light and more) for as much as 75% off. and don't forget about the Nivea Lip Clearance I shared with you earlier.