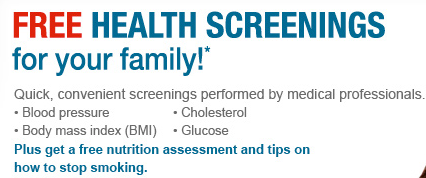 CVS has a nice offer for you!  This month every Thursday, Friday, and Saturday from 2PM – 6PM, adults and children (ages 7+) can stop by a participating CVS for a FREE Health Screening, including BMI, blood pressure, cholesterol, and glucose screenings for adults ($100 value) no appointment required. In addition, get a FREE nutrition assessment and tips on how to stop smoking.
As a bonus, you'll get a FREE Tote Bag AND $5 off coupon after your health screening just for participating! I'm not quite sure what the $5 coupon will be valid for since I haven't participated but if you do let me know!
Fine Print: Offer expiration dates vary by month. Tote bag and $5 coupon available only after completion of the health screenings. Limit 1 coupon and 1 tote bag per customer. Coupon cannot be combined with any other CVS/pharmacy® coupons. ExtraCare® card must be presented to receive these savings.

Thanks H2S