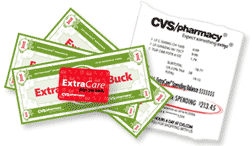 CVS shoppers, don't forget to scan your CVS cards at the coupon scanner.  This week for some of you may be printing a coupon for a free Trident Layers gum pack.
Other CRT's printing include:
$10 off any Prevacid 24HR (good one for the ECB deal this week)
$1 off any Thermacare 2ct or 3ct heat wraps
Save $1 on 12 oz. Absolutely Divine cookies
$2 of any Huggies Little swimmers (hang on to this one for an ECB deal next week)
$2 of any Huggies Jeans Diapers
$4 off wyb BOTH Diapers & Wipes (awesome! would hang on for ECB deal on Pampers starting on 8/1 or this week with Huggies deal)
Buy any (2) Gerber baby Food Items, Get (1) Free (exc formula)
$3 any Futuro knee, ankle, wrist brace or hosiery
$3 off any (3) Hot Pockets or Lean Pockets
$.79 off Dove Large Candy Bars (these are buy two get one free this week)
$1 off any CVS Brand Sunscreen Lotion or Spray
$2 off Renu Fresh 12 oz or larger
$2 off Neutrogena Cosmetics
$5 off Lotrimin Ultra 24mg cream
In general some very good CRTs printing this week.  I never get rid of my CRTs because most often than not they make for good deals if not on the week I get them the week or two later.
Thanks 4 our two cents!