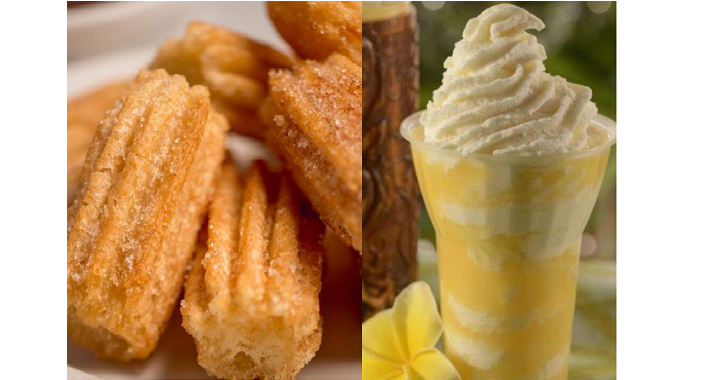 Is anyone else day dreaming about being at Disneyland and enjoying all of the yummy food? I sure am! Thanks to Disney, we can now make their famous Churros Bites and Dole Whip at our own home. Each one requires little ingredients which is super nice. So have a Disney style party tonight by making these yummy treats.
Disney Parks Churro Bites you can check out the complete guide here
Ingredients:
1 cup water
8 tablespoons butter
¼ teaspoon salt
¾ teaspoon ground cinnamon, divided
1 ¼ cups all-purpose flour
3 eggs
1 ½ cups vegetable or canola oil
½ cup sugar
Instructions:
Combine water, butter, salt, and ¼ teaspoon cinnamon in 1 ½-quart saucepan over medium heat. Bring pot to rolling boil.
Reduce heat to low.
Add flour and stir vigorously until mix forms a ball. Remove from heat and let rest for 5-7 min.
Add eggs, one at a time, and stir until combined. Set aside.
Heat oil in medium skillet or 1-quart saucepan over medium-high heat or until temperature reaches 350˚.
Spoon dough into piping bag fitted with large star tip. Pipe 1-inch strip of dough over saucepan, cut with knife, and drop into hot oil. Repeat until churro bites fill saucepan with room to fry.
Fry churro bites until golden brown. Remove with slotted spoon or mesh spider strainer.
Drain churro bites on paper towel.
Mix sugar and ½ teaspoon cinnamon in medium bowl. Toss in churro bites until coated. Place on serving plate and serve with favorite dipping sauce.
Dole Whip Recipe: You can find the complete recipe when you use the Disney App. 
(This is for a single serving)
Ingredients:
1 big scoop of ice cream
4 oz of pineapple juice
2 cups of frozen pineapple
Instructions:
Add all ingredients to a blender until it's a thick drink.
Add your swirl and then you're done! Enjoy!