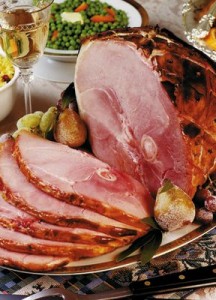 Make sure you check out the in-store ad for Dominick's this week if you are interested in purchasing a ham for a holiday dinner this month.  Clip a $10/1 Safeway Spiral Sliced Ham, Safeway Bone-in Whole, Shank Half or Butt Half Ham with Fresh Values Card and $20 minimum purchase.
Other Dominick's Deals this week:
Buy any 4 participating items, Save $4 at checkout (Limit 20)
$1.99 each after discount:
Lucky Charms 16 oz
Cheeros 14 oz
Golden Grahams 16 oz
Kellogg's Frosted Mini Wheats 16 – 18 oz
$1.49 each after discount:
Cocoa Puffs 11.8 oz
Trix 10.7 oz
Cinnamon Toast Crunch 12.8 oz
Betty Crocker Fruit Snacks
Use the following General Mills coupons to save even more:
$1/2 General Mills Cheerios 11/7/2010 SS Insert (exp 12/18/2010)
$1/2 General Mills Cereals 11/14/2010 GM Insert (exp 12/25/2010)
Holiday Daily Deals:
Thursday 12/16 – Perdue Boneless Skinless Chicken Breast 3 lbs frozen $6 (Limit 2)
Friday 12/17 – Refreshe Soda or Mixers $.47 (Limit 3)
Saturday 12/18 – Safeway Russet Potatoes $1.48 each
Lucerne Shredded or Chunk Cheese 3/$5
Fage Greek Yogurt 4/$5
Use $1 Fage Greek Yogurt
Use $.50/1 Fage Greek Yogurt
Pay as low as $.25 each after coupon
Green Giant Steamers 3/$5
Use $.50/2 Green Giant Steamers 11/14/2010 GM Insert
Pay $1.42 each after coupon wyb 2
Before you shop, don't forget to sign up for the Dominick's Just For U member loyalty program and receive a FREE dozen eggs plus money saving coupons in your email box.