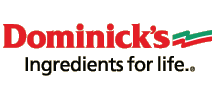 Here are some of the best grocery deals available at Dominicks.  There is a catalina deal on Procter & Gamble products and there will be great coupons coming out for those this coming Sunday.  If you come up with a good scenario please share in the comments.  Please stop by Couponing 4 four to see the complete match ups:
Crest or Colgate Toothpaste 99¢
Use $0.75/1 Crest Toothpaste or Liquid Gel, exp. 2-28-10 (P&G 01/17/10)
Pay $0.24 each after coupon
Nature Valley Granola bars 2/$3 (through Saturday)
Use $0.40/1 Nature Valley Granola Bars printable
Use$0.40/1 Nature Valley Granola Bars printable
Pay $1.10 each after coupon
Nabisco Premium Saltine Crackers $1.29
Use $1/1 Nabisco Crackers, exp. 3-31-10 (SS 01/24/10)
Pay $0.29 each after coupon
Umm, kind of a slow week.  Might want to shop at Jewel instead.