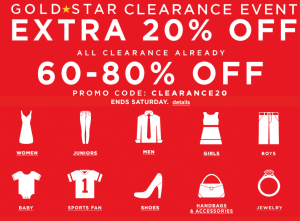 WOW! This is one of the best Kohl's clearance sales
I've seen!
Make sure you head over and check out the Kohl's clearance section
today through 3/22/14! On top of the 60% to 80% markdowns you see, you can take an extra 20% off when you use the code CLEARANCE20. Then, you can use another stackable code, FRIENDS20, to take another 20% off again! If you have Kohl's Cash to redeem, you can do that as well!