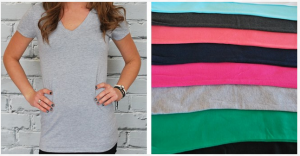 Does anyone else have trouble finding shirts that are long enough? I know I do! I swear I have the longest torso of any human being on the planet, which makes it really difficult to find shirts that fit and cover what I need them to cover.
I'm seriously considering order some of these extra long V-neck t-shirts from Jane today. These are longer than regular shirts, so they cover more of your torso and hips. They'd also be great for layering, and they come in lots of colors.
These are $5.99 today, and shipping is $3.99 for the first one and $1.99 for each one after that.