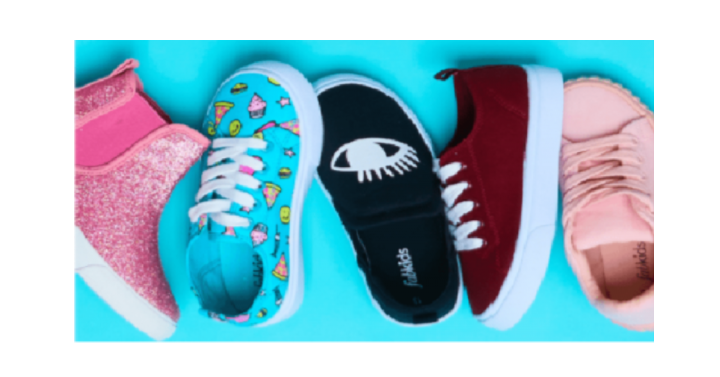 Does it feel like your kids are always growing out of there shoes?!?! It sure does for me! If you haven't taken advantage of this awesome deal yet, you really need to!  FabKids has an awesome promotion going on right now where you can score two pairs of shoes for as low as $9.95! That's only $4.98 per pair which is a steal for these highly made shoes. Here's how it works:
Fabkids is offering a BOGO deal just for NEW VIP Members! Plus, you'll be able to get a FREE $10 Welcome Credit for new VIP members. Just add two pairs to your cart and the discounts are taken automatically. These two offers together mean that you can snag some shoes and boots for the kiddos for as low as two pairs for $9.95! That's about $5 per pair, which is a CRAZY good deal!
I've already grabbed this introductory promo, and I was very satisfied. I really recommend this offer to anyone looking to pick up some inexpensive kids' shoes! Keep in mind, though, that these stacking offers are ONLY available for ONE HOUR after you sign up, so shop fast!
Not ALL shoes will be this inexpensive, though, so pay attention to those prices! Choose two pairs of shoes that are priced at $19.95 each, and your total should be only $9.95 for both pairs after the BOGO sale and $10 credit.
Once you become a Fabkids VIP member, you'll receive new styles handpicked just for your kid by our style team each month. Visit your FabShop by the 5th of the month to check out the styles for you. If you don't want to make a purchase, simply 'Skip The Month' by the 5th and you will not be charged. Skip as many months as you'd like, and you can cancel at any time.