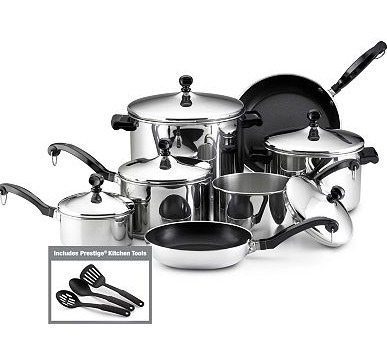 out of stock now
You can get this Farberware Classic Series 15-pc. Cookware Set shipped from Kohl's. Just use the code LEAP20 to get an additional 20% off the sale price of $39.99. ANy order $29 or more ships for free from Kohl's. So this one ships free to you.
This set includes: 1-qt. covered saucepan, 2-qt. covered saucepan, 3-qt. covered saucepan, 8-in. open skillet, 9 1/2-in. covered deep skillet, 6-qt. covered stockpot, slotted turner, slotted spoon & solid spoon & 13″ x 9″ cookie pan.
UPDATE : Let me know if you are able to complete checkout on this one or not. If not, you may want to try calling Kohls.com to see if you can complete the purchase over the phone.