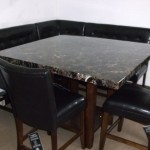 Furniture is a basic household necessity. It's needed for comfort and
convenience. Unfortunately, furniture is also one of the most expensive household necessities, and finding cheap furniture can seem like an impossible task.
While it may be difficult at time, cheap furniture is available and it may not be as hard to find as you think. Here are a few great places to find cheap furniture for your home.
Thrift Stores
One of the best places to find cheap furniture is at your local thrift stores. You can sometimes snag some great finds on secondhand furniture and possibly furnish your entire home. Many of the pieces you find will be sturdy and in decent condition, but make sure you thoroughly check it over.
Yard Sales
During the warmer months, the best place to find cheap furniture is by hitting the yard sales in your area. This is how many people get rid of their old furniture when they replace it with new pieces. You can usually score a pretty great deal, especially if you're good at haggling. Check out the higher end neighborhoods in your area for great pieces of cheap furniture.
Classified Ads
When you're looking for cheap furniture, don't forget to check classified ads for your area. Check your local newspaper and community bulletin boards, as well as online classifieds like Craigslist. And don't forget Freecycle, where you might even be able to pick up some free furniture.
Clearance
Furniture stores, like other stores, put their merchandise on clearance. If you walk into any furniture store, you'll often find an entire room dedicated to nothing but super cheap furniture that's been discounted for one reason or another. Some of the pieces may be on clearance because they were returned, but others may have slight damage. Some of the pieces may be on clearance to make room for newer models. If you can't find the clearance section at your furniture store, don't be afraid to ask!
Friends and Family
One of your family members or friends may be getting ready to get rid of their old furniture. This could be an opportunity for you to pick up some great cheap furniture. In many case, you might even be able to score some free furniture.
Rent-to-own
Rent-to-own stores aren't my first choice for finding cheap furniture, since you're more likely to pay more in the long run. however, if you need some cheap furniture as soon as possible and you're positive you can make the payments, it's still an option. If you're planning on paying on the furniture until it's yours, though, make sure you request brand new items. Rent-to-own furniture places are also a great way to get a new mattress, if the idea of sleeping on a used mattress makes you squeemish.
Layaway
If you are able to wait to get your furniture, consider a layaway plan. While this may not get you the furniture any cheaper, but it can make it more affordable and easier to pay for.
Any other tips for finding cheap furniture?