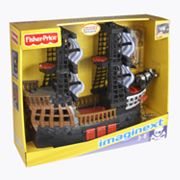 Grab a Fisher-Price Imaginext Pirate Ship for only $15.29 during Kohl's after Christmas sale! This normally sells for $59.99, but it's on sale right now for $24.99, but the price drops to $22.49 when you add it to your bag. Use the promo code TOYS at checkout, and the price drops even further to $17.99. Also, use the promo code NEWYEAR and the price will drop an additional $2.70, making your final price $15.29.
That's not all either. Lots of toys are marked as Buy One, Get One 50% off, including Furby Boom! Use the promo code TOYS when you buy two Furby Boom toys, and one will drop to $59.99 and the other will drop to $29.99. Use the promo code NEWYEAR, and you'll get an additional 15% ($13.50) off of that, making your final price just $38.24 per Furby Boom.
Be sure to check out all of the Kohl's toy deals! This could be a great way to grab some awesome deals for upcoming holidays or birthdays!
Here are some promo codes that could come in handy today…
TOYS Extra 20% Off all toys
HAPPY Extra 20% Off orders of $100 or more
NEWYEAR Extra 15% Off orders under $100
Don't forget – you can also redeem all of that Kohl's cash you got during your holiday shopping!