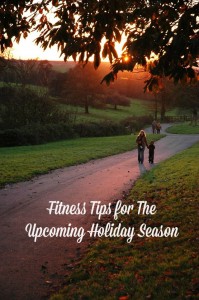 With the holidays coming up, many of you are starting to stress about the weight gain that often comes with the delicious food and drinks.  Luckily, there are ways for you to enjoy splurging on the holiday favorites without packing on the pounds.
Here are some fitness tips for the upcoming holiday season:
Don't slack!
If you are already on a workout program, do not let the holidays derail it.  Sure the holidays are a busy time, but it's important to not let it fully interrupt your workout schedule.  You will regret it later!
Drink Lots of Water!
There are several reasons that drinking a lot of water can help you maintain your fitness.  First, it will make you feel fuller which keeps you from overeating.  Second, people oftentimes confuse thirst with hunger and they eat instead of just grabbing some H2O.  Third, water keeps you hydrated.  Maintaining your hydration helps to keep your metabolism working better, which means you will burn more fat!
Walk!  
I know you hear all the time about how you should walk more!  It's true though.  Walking just 15 minutes a day can help you burn over 100 calories.  Now that's a reason to not feel guilty about sneaking that Christmas Cookie!
I don't know about you, but I love walking in the cool, crisp air of Fall and Winter.  It feels great and energizes me.  Even if you don't make it out on a daily walk, you can still take the stairs instead of the elevator when you are out shopping and don't forget to park far away from the doors!  You get more exercise and you are less likely to come out to door dings!If nothing else, you can do a be sure and park far away from the stores when you are out shopping this holiday season
Eat Slowly
It's ok to eat all of the great foods that will undoubtedly make an appearance this holiday season, but be sure to take it in moderation and when you do eat, eat slowly.  You definitely want to savor all of those yummy flavors and the slower you eat, the less likely you are to overeat.