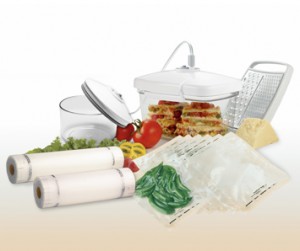 Do you have a FoodSaver?  I do and love it!  It is great for buying meat in bulk and freezing it.  If you have a Foodsaver then I have a really great deal for you.  Foodsaver.com is offering their Value Bundle 72% off, down to $12.99 from regular price of $46.99.  You need to add the item to your cart to see the discounted price or use the code K9FECCC at checkout.  This bundle includes:
1 – 11" FoodSaver® Roll
1 – 8" FoodSaver® Roll
5 – FoodSaver® Quart Bags
5 – FoodSaver Gallon Bags
1 – Rectangular 1.5 Qrt.Canister with Cheese Grater
1 – Round 4" diameter 25 ounce Canister
You can see this is a fantastic price for this amount of Foodsaver items.  Shipping is $8.50 but even with that this deal is still pretty good.  To make this deal even better go through ShopAtHome and get 8% Cash back (plus the $5 sign up bonus if you are new to ShopAtHome).  Just in case you are not familiar with ShopAtHome, it is a cash back program that rewards you for your online purchases helping you save even more.
Thanks She Saved!