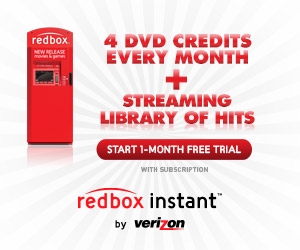 Redbox kiosks are popping up all over the country, and they make renting movies quick, easy, and cheap! Now, they've even added a video streaming services for movie buffs that want to watch movies from their smart devices.
They offer a number of deals and promotions, including free rental codes and free trials. Right now, when you sign up for a free trial at Redbox and get four free movie rentals and unlimited free movie streaming on a number of different devices.
Here's how it works:
Go to the Redbox website.
Click on the "Start Free Trial" button.
Click on "New Account".
Enter your email, new password, name, and zip code and click "Create Account".
Agree to start a free trial subscription and click "Continue".
Add your credit card information and click next. (Don't worry – you won't be charged ANYTHING until your trial subscription ends!)
Read and agree to the Subscription Billing Agreement and Click "Confirm Subscription". (Again, you won't be charged for the first month!)
Start streaming movies right away or go rent one at a Redbox kiosk!
You'll also be sent a welcome email when you sign up explaining how to stream movies and use your four DVD credits at a kiosk. To use your free credits at a kiosk, simple choose the movies you want, touch the "Use Credits" button, and swipe the card associated with your account.
Your free trail is good for thirty days. If you don't cancel before the trial period ends, your card will be charged a small monthly fee of $8.
Find out how easy it is to rent from a Redbox kiosk, with a FREE Redbox movie rental code!