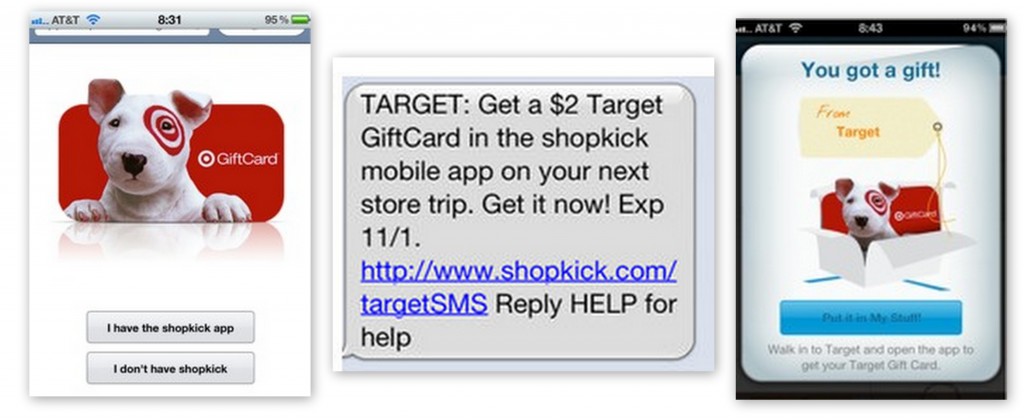 If you have Shopkick you most likely received the same text message I did for a free $2 Target Gift Card! Shopkick is offering a free $2.00 Target gift card for new and existing Shopkick app users.  If you are signed up for Target text messages you should have seen the above photo. 
If you did not get the text message from Target,  you can try these steps to get the $2.00 Target gift card. (no guarantees, but worth a shot)
Sign up for the Shopkick app.  This offers valuable mobile coupons and rewards. see below for more details.
Once you sign up,  type www.shopkick.com/targetsms  into the address bar of your cell phone and click on "I have the Shopkick app"
So what is Shopkick?
Shopkick is a free app that can be found in the iPhone or Android application store. If you set your smartphone to locate your position, ShopKick will recognize what stores or restaurants you enter. You receive "kickbucks" or points that you can redeem for rewards like a Target giftcard. When you enter a store or restaurant or scan certain barcodes you will earn kickbucks. By using Shopkick, you can get  scannable Target Coupons to redeem at checkout.
To learn more about Shopkick, visit their website here.  Check out all the best Target deals here.
Thanks For the Mommas (photo credit as well)