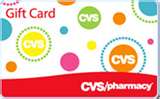 UPDATE: Sorry guys, looks like this offer is now expired.
CVS is offering a bonus $5 e-gift card when you buy another one for $25. You can purchase up to a $130 GC and get a bonus $50 GC.  Great way to make those CVS deals even better.
You can check a list of bonus offers when you buy gift cards here.
Thanks Tracey!