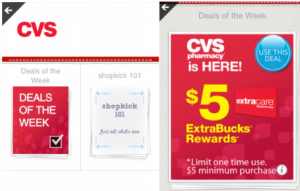 If you're a CVS shopper, Shopkick is offering a Free $5 Extra Care Bucks when you buy $5! You can find this offer under deals of the week.
So what is Shopkick?
Shopkick is a free app that can be found in the iPhone or Android application store. If you set your smartphone to locate your position, ShopKick will recognize what stores or restaurants you enter. You receive "kickbucks" or points that you can redeem for rewards like a Target giftcard. When you enter a store or restaurant or scan certain barcodes you will earn kickbucks. By using Shopkick, you can get  scannable Target Coupons to redeem at checkout.
To learn more about Shopkick, visit their website here.  Check out all the best CVS deals here.
Thanks Amit