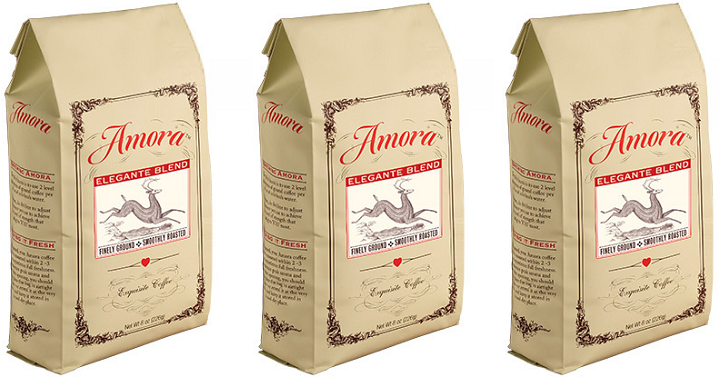 That awesome FREE Amora coffee offer is available again! Head over and grab a free half pound of Amora coffee! What's so great about Amora coffee? Besides the fact that your first bag is free, of course…
Roasted in the USA by fifth-generation Master Roasters devoted to bringing you the perfect cup
Hand packed in foil-lined bags, while still warm, to protect the flavor and aroma
Arrives fresh on your doorstep when you're ready to enjoy it
Now in eight delicious varieties!
You can even choose your own flavor. That'll probably be the hardest part, because there are 8 flavors to choose from:
Delicata – Light
Elegante – Medium
Vigorosi – Dark
Intenso – Robust
Angelico – French Vanilla
Carezza – Caramel Vanilla
Flirtare – Hazelnut & Cinammon
Passionata – Chocolate Truffles
I tried the Caramel Vanilla flavor first time I posted this offer, and just paid $1 for shipping. Oh MY was it good! I highly recommend this FREE coffee offer, and canceling the trial was quick and easy. If you don't want to continue with your subscription, you'll need to cancel it within 2 weeks, or you will be charged for regular coffee delivery. If you don't choose to cancel your subscription, you'll also receive FREE gifts in future deliveries!