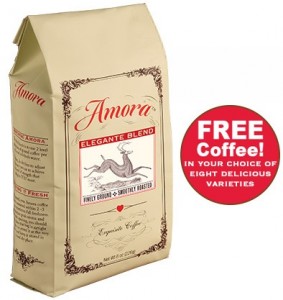 Right now, Amora Coffee is offering a free half pound bag of Coffee for trying out their service! You just need to pay $1 for Shipping.
There are eight different blends to choose from:
Delicata – Light
Elegante – Medium
Vigorosi – Dark
Intenso – Robust
Angelico – French Vanilla
Carezza – Caramel Vanilla
Flirtare – Hazelnut & Cinammon
Passionata – Chocolate Truffles

I'm personally going to be choosing the Caramel Vanilla! YUM!!! Hurry on over to Amora Coffee right now to pick up your free half pound bag of Coffee!
NOTE: This is a subscription service. There is no obligation to continue the free trial. If you do not cancel the trial within two weeks, you will be be charged for coffee delivery.