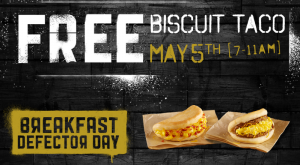 A biscuit taco… What? Noooo! What's a biscuit taco?! Sounds like breakfast blasphemy to me, or at least breakfast defection.
If you're a breakfast defector, though, you can get a FREE biscuit taco from Taco Bell on May 5th from 7 AM to 11 AM! There's a limit of one free sausage or bacon biscuit taco per person.
I'm probably going to skip this freebie, but if you grab one, be sure to let us know how they are!