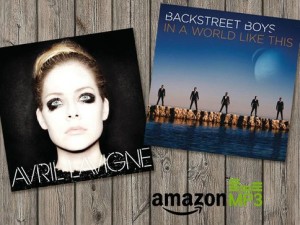 If you are a Backstreet Boys fan or an Avril Lavigne fan, do not miss this deal!  Get Free Coupon from Amazon Local to Purchase Backstreet Boys' "In a World Like This" and Avril Lavigne's "Avril Lavigne" for $4.99 Each
!
Enjoy the hottest offerings from pop superstars Avril Lavigne and the newly reunited Backstreet Boys with today's deal for half off their latest albums. Grab this chance to get in step with new hits by these electrifying artists, who are embarking on a nationwide tour together this summer.
Coupon to purchase Backstreet Boys' In a World Like This and Avril Lavigne's Avril Lavignefrom Amazon MP3 for $4.99 each
Avril Lavigne boasts tracks like the heartfelt "Here's to Never Growing Up" and the infectious "Hello Kitty"
In a World Like This features singles like the album's title track and the inspirational "Show 'Em (What You're Made Of)"
New music by internationally acclaimed artists at a deep discount
This item is eligible for free shipping on $35+ orders or on ANY order with Amazon Prime.  Don't have a Prime membership? Get a one month free trial! Click here for details!