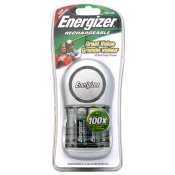 Get a FREE Energizer Rechargeable charger after store and manufacturer rebate. Walgreens is currently offering a $5 store rebate when you you buy an Energizer rechargeable charger like the one pictured. The charger is on sale this week for $7.99, so you get it for $2.99 after Easysaver rebate. You can get it for free by also submitting your receipt for this rebate offered by the manufacturer for $5 back when you buy one Energizer Rechargeable charger. You actually come out ahead $2.01, that should over tax and stamp for mailing your rebate.
If you submit your Walgreens rebates by mail, just make sure you ask for a rebate receipt so that you can also submit for the manufacturer rebate. Here are some instructions on how to get rebate receipts at Walgreens. If you can't make it to the store before the sale ends (Saturday 12/20), don't despair. The regular price of the pictured charger is $9.99 so you still get it for free after both rebates. Just make sure to get the charger before the end of the Walgreens Easysaver Period for December (12/27).
PS. Remember to use the 1/1 or 0.75/1 manufacturer coupon that was in the 12/14 Smartsource insert. That should help pay for tax and the stamp if you buy the charger when it's not on sale.
Happy Savings!