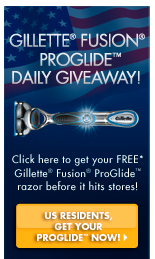 Gillette is giving away 4,000 razors everyday on Youtube.  Just click on "Gillette Fusion Proglide Giveaway" for US Residents.  hurry, this doesn't last for long usually. The giveaway lasts for the next 3 days (May 18, 19 & 20), & then again on May 25, 26 & 27. and each day they are giving away 4,000 razors.  Go get yours!
Thanks Cham and Melina for emailing about this deal for a chance to win.
PS.  Looks like this one is available only to those of you who have not gotten one yet.