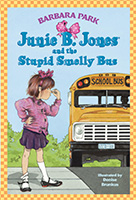 Get the kids reading this summer vacation with a FREE book from Random House!
Sign your child up for the Junie B. Jones Kids' Reading Club and he or she will receive the first book in the Junie B. Jones series, Junie B. Jones and the Stupid Smelly Schoolbus.
My daughter loved Junie B. Jones when she was younger! She has the whole set of books and still reads them from time to time, even though she's going into 6th grade.