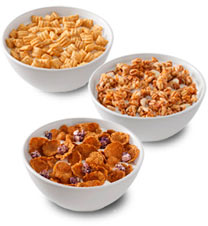 Kashi is offering  a free sample of their cereals. You can choose among: Honey Sunshine, heart to Heart or Kashi Go Lean.  OR for fun you can let them choose for you and get a surprise in the mail.  Sounds like fun!  I chose to be surprised.  Thanks Coupon Dad!
Here are a couple of other freebies available:
Free baby organizer when you create a registry with the Land of Nod.  Thanks Financially Fit Mom!
Enjoy!