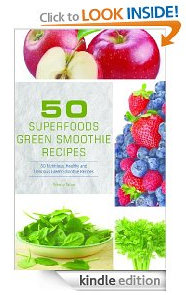 Looking to get a little healthier?  Right now you can download this ebook 50 Superfoods Green Smoothie Recipes – 50 Nutritious, Healthy and Delicious Green Smoothie Recipes in Kindle format for free at this moment.
Have you also heard of Superfoods and the concept of Green Smoothies? And while it may have peaked your interest, you're still not sure exactly what all the fuss is about?
Superfoods are foods with high nutrient content that confers real health benefits, with few properties considered to be negative, such as being high in saturated fats or artificial ingredients, food additives or contaminants.
A Green Smoothie is a smoothie containing both Superfoods fruits and greens.
Greens have more valuable nutrients than any other food group on the planet. Greens have high-quality, easily-assimilated amino acids to build the protein needed for a strong and healthy body.
Please note this kindle book is free to anyone at the moment. But Amazon changes their offers without notice. Please make sure it is still free before you start downloading it.
Remember that you do not need a Kindle e-reader to be able to read this book. You can read it on your PC, iPhone, iPad
, Blackberry and Android. Just download for free the appropriate application to be able to do that. Amazon changes prices without notice, so make sure to check that the kindle price it is still $0.00 before you start downloading this book.