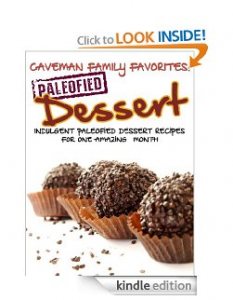 Treat your family caveman style with these paleofied recipes from the book: Caveman Family Favorites: Indulgent Paleofied Dessert Recipes For One Amazing Month.  This book is available for free in Kindle format right now.
Book Description
Dessert no longer needs to be on the naughty list! When made with natural, whole foods and free of health-killers, dessert can become a regular part of your vocabulary — without an impact on your waist line! This indulgent edition of Caveman Family Favorites has Paleofied versions of all of the most tempting desserts, like cookies, cakes, and custards. Every recipe in this book is:
Gluten-free
Grain-free
Dairy-free
Peanut-free
And free from processed sugars
Please note this kindle book is free to anyone at the moment. But Amazon changes their offers without notice. Please make sure it is still free before you start downloading it.
Remember that you do not need a Kindle e-reader to be able to read this book. You can read it on your PC, iPhone, iPad
, Blackberry and Android. Just download for free the appropriate application to be able to do that.