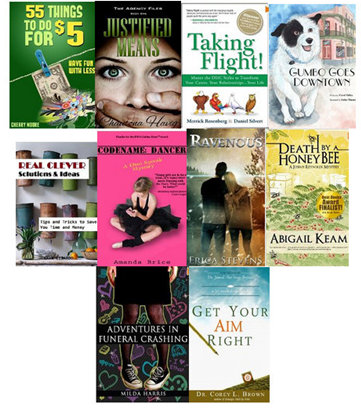 Thanks to my friend and fellow blogger over at Jessica's Coupons you'll be able to check out this huge list of free kindle books currently available. 
Please note that Amazon changes their offers without notice, so please make sure they are still free before you start downloading them:
Fiction
Mystery, Action and Suspense
Death By A HoneyBee (Josiah Reynolds Mystery 1) (A Josiah Reynolds Mystery)
City of Light (City of Mystery)
THE GOOD DAUGHTER: A Mafia Story (Vista Security prequel)
Cloudburst (An Art Jefferson Thriller)
The Disappearance of Mavis Woodstock (The Val & Kit Mystery Series)
Romance
The Hollywood Twins – The Hills Party (Contemporary Romance)
Royal Bachelor
The Fairy Tale Bride (Once Upon a Wedding)
Paranormal, Fantasy and Sci-Fi
How to Date a Werewolf (Rylie Cruz Series)
Blood Run, First Promise – Book One in the Blood Run Trilogy
Blood Calling (The Blood Calling Series, Book 1)
Ravenous (Book 1 The Ravening Series)
Christian and Religious
In Name Only
Maggie's Journey (McKenna's Daughters)
Frozen Footprints
Justified Means (Book One) (The Agency Files)
Classics
The Jane Austen Collection: 28 Classic Works
Non-Fiction
Get Your Aim Right
Rex and the City: True Tales of a Rescue Dog Who Rescued a Relationship
55 Things To Do For $5: Have Fun With Less [Quick and Fun Guide]
Taking Flight!: Master the DISC Styles to Transform Your Career, Your Relationships…Your Life
Immersion: Live the Life God Envisioned for You
How to eBay in Real Life (For a Living)
Real Clever Solutions and Ideas: Tips and Tricks to Save You Time and Money
How to Start a Cupcake Business
Cookbooks
Quick, Cheap & Healthy School Lunches That Your Kids Will LOVE!
Good Eating's Creative Pasta: Healthy and Unique Recipes for Meals, Sides, and Sauces
30 Delicious Ice Cream Cake Recipes
Barbecurious: A Beginner's Guide to American Barbecue
Children's
GUMBO GOES DOWNTOWN Homeless and Runaway Children's Picture Book (Fully Illustrated Version)
My Love Is…(Read-Out-Loud Valentine's Day Kids Books) (Big Red Balloon)
Jokes for Kids: Jokes, Riddles, & Tongue Twisters That Will Tickle Your Ribs & Make Your Funny Bone Laugh
10 Little Cows (A Counting Picture Book)
Adolescent
FingerTip Island III: The Vincenzos' Missing Sister
Tribe of the Teddy Bear
Scar and the Wolf (The Plainfield Chronicles)
Socialpunk (Socialpunk #1)
Codename: Dancer (The Dani Spevak Mystery Series)
Hidden Gem #1
Adventures In Funeral Crashing (A Kait Lenox YA Chick Lit Mystery)
Revenge of the Homecoming Queen (The Aspen Brooks Trilogy)
Remember that you do not need a Kindle e-reader to be able to read this book. You can read it on your PC, iPhone, iPad
, Blackberry and Android. Just download for free the appropriate application to be able to do that. Amazon changes prices without notice, so make sure to check that the kindle price it is still $0.00 before you start downloading this book.