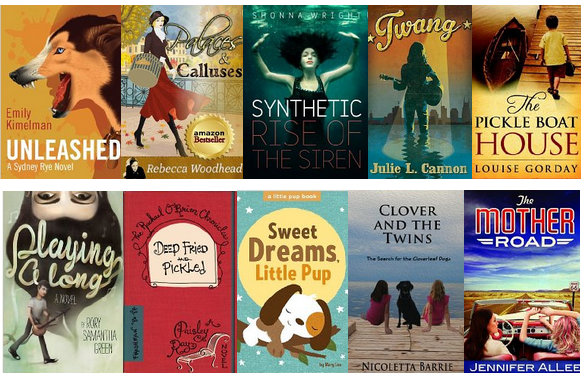 Thanks to my friend and fellow blogger over at Jessica's Coupons you'll be able to check out this huge list of free kindle books currently available. 
Please note that Amazon changes their offers without notice, so please make sure they are still free before you start downloading them:
Fiction
Mystery, Suspense & Action
Devils Among Us
The Blue Hour (Merci Rayborn Novels)
Hoofprints (Gail McCarthy series)
Hooked
Unleashed (A Sydney Rye Novel, # 1)
Coyote Wind: A Payton Claymore & John Raines Novel (Book 2)
Romance
Snowed
Palaces and Calluses (Cotswold Chronicles)
Divorcees.biz: A Novel of Fun and Romance
Captive Bride
Paranormal, Fantasy & Science Fiction
Synthetic: Rise of the Siren
The House on Blackstone Moor (The Blackstone Vampires)
Perfect Misfits
Prince Charming Must Die! (The Grimm Chronicles, Book 1)
Christian, Religious & Historical
The Mother Road
Kaleidoscope Summer (Samantha's Story)
Elk's Resolve (Nan's Heritage Series)
Cooking the Books: A Sloane Templeton Mystery
Twang
Contemporary
Playing Along
The Pickle Boat House
Born to Be Wild
Deep Fried and Pickled (Book One – The Rachael O'Brien Chronicles)
Classics
This Side of Paradise
Non-Fiction
The Whole Truth: Search Engine Optimization – A 10-year SEO veteran breaks silence to tell you how to get to the top of Google
Learn How to Compost – A Guide to Composting
At the Heart of Leadership: How To Get Results with Emotional Intelligence (3rd Edition, Revised & Updated)
Social Equity – Social media strategy to dominate sites like Facebook, Twitter, LinkedIn, WordPress, Tumblr, Pinterest, YouTube Google and more (Asset School)
Successfully Selling Your Home
Encourage Me: 30 Days to Positive Self Talk Through God's Word
Cookbooks
Just Sushi: A Collection of Simple Sushi Recipes
The Cookie Book – Make Your Own Cookies Easily
Children's
Terry's Emotions
Sweet Dreams, Little Pup (A Little Pup Book)
Monsters Children Ebooks for age 3-5: "Who's Under The Bed"? (Children Are an Inspiration Children's Books Collection)
Jane's Transformation (The Magical Pony School)
Preteens
Secret Sisters: Volume Three
Billy: Messenger of Powers (The Billy Saga)
Clover and the Twins: The search for the Cloverleaf Labrador dogs
Young Adult
Slow Dance in Purgatory (Purgatory Series)
Cassidy Jones and the Secret Formula (Cassidy Jones Adventures, Book One)
The Clashing End: A Young Adult Werewolf Romance (Fitz and the Pack Collection)
The Storm Bottle
---
Remember that you do not need a Kindle e-reader to be able to read this book. You can read it on your PC, iPhone, iPad
, Blackberry and Android. Just download for free the appropriate application to be able to do that. Amazon changes prices without notice, so make sure to check that the kindle price it is still $0.00 before you start downloading this book.