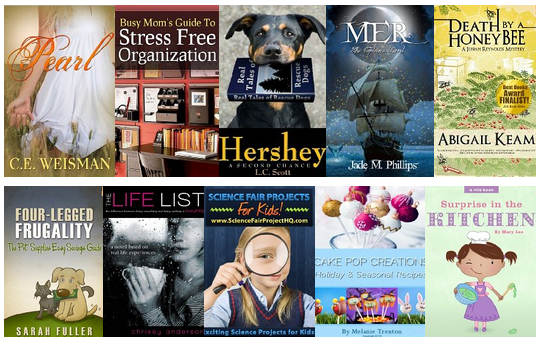 Thanks to my friend and fellow blogger over at Jessica's Coupons you'll be able to check out this huge list of free kindle books currently available. 
Please note that Amazon changes their offers without notice, so please make sure they are still free before you start downloading them:
Fiction
Mystery, Suspense & Action
Death By A HoneyBee (Josiah Reynolds Mystery 1) (A Josiah Reynolds Mystery)
Unauthorized Access
Camelot's Cousin: An Espionage Thriller
No Margin for Error
The Path to Freedom (Task Force 125)
Romance
Branded (Retribution Series)
The Life List (The List Trilogy)
Lady Iona's Rebellion: sexy historical romance
Paranormal, Fantasy & Sci-Fi
The Truth Beyond the Sky (The Epic of Aravinda)
Dreamer (Jarmo)
Drowning Mermaids (Sacred Breath Series, Book 1)
Ice Gods (Paranormal Romance Novella)
Christian & Religious
Always Ready (Truly Yours Digital Editions)
Sweet Forever (Truly Yours Digital Editions)
 Contemporary
Granddad's House (On Geneva Shores)
Pearl
Classics
The Tempest (The Modern Shakespeare: The Original Play with a Modern Translation)
Non-Fiction
The Impossible Mentor: Finding Courage To Follow Jesus
Four-Legged Frugality: The Pet Supplies Easy Savings Guide
The Sensible Wedding Planner : How to Plan an Unforgettable Celebration that Is Uniquely Yours
The Busy Mom's Guide To Stress Free Organization: How To Organize, Clean, And Keep Your Home Stress Free
Achieve Anything In Just One Year: Be Inspired Daily to Live Your Dreams and Accomplish Your Goals
 Easy Science Fair Project Ideas for Kids
Cookbooks
Cake Pop Creations: 25 Fun & Delicious Recipes
Cake Pop Creations: Holiday & Seasonal Recipes
Children's
Surprise in the Kitchen (a mia book)
ABC Come Play With Me: A Picture Alphabet Book for Young Children
Toddler Books – Daisy's Birthday
Rocky at the Farm (Rocky's Adventures in Life)
Preteens
The Frozen Trail
The Shadow of Atlantis (Shadows from the Past)
Hershey: A Second Chance
Escape From The Forbidden Planet
Young Adult
MER: The Captain's Secret
Taken (A Magical YA Paranormal Romance)
Remember that you do not need a Kindle e-reader to be able to read this book. You can read it on your PC, iPhone, iPad
, Blackberry and Android. Just download for free the appropriate application to be able to do that. Amazon changes prices without notice, so make sure to check that the kindle price it is still $0.00 before you start downloading this book.