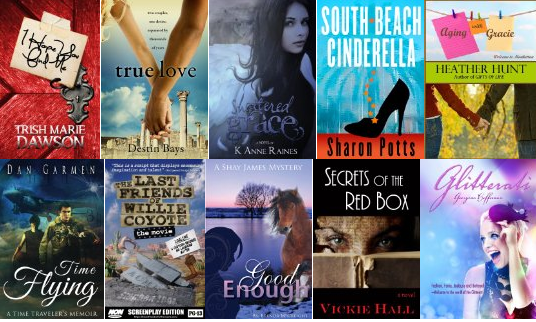 Thanks to my friend and fellow blogger over at Jessica's Coupons you'll be able to check out this huge list of free kindle books currently available.
Please note that Amazon changes their offers without notice, so please make sure they are still free before you start downloading them:
Fiction
Mystery, Suspense & Action
I Hope You Find Me
Sagebrush
The Politics of Pleasure
The Delphi Chronicle, Book 1 – The Manuscript
Romance
Stay Close, Novac!
South Beach Cinderella
True Love
Snowed
The Unexpected List (The List Trilogy)
Miss Moseley the Matchmaker
Paranormal, Fantasy & Science Fiction
Force (An Alex Warren Novel)
Time Flying
Followed (The Followed Series)
The Last Friends of Willie Coyote
Christian, Religious & Historical
Facing Redemption
Aging with Gracie (Welcome to Manhattan)
Contemporary
Coworkers and Other Dangerous Creatures
Glitterati
The Girls' Adventure Club
Secrets of the Red Box
Classics
Robinson Crusoe
Children's
Where Are the Dinos?
The Poodle Tales: Book One: Poodlemania
Night of the Candy Creepers
Ellie's First Puppy (My Firsts)
Kit and Kaboodle
THE SECRET TO HAPPINESS
Bumble Babees
Paulie Listens To Mommy
Preteens
Teen Idol Terror (A Jenny Johnson Mystery)
Errol Come Home (Errol Cat Mysteries)
Diggers: The Sharp Edge of the Universe
Crime Files: Four-Minute Forensic Mysteries: Body of Evidence
Secrets of Black Water Creek
Young Adult
Level Zero
Good Enough (A Shay James Mystery)
Shattered Grace (Fallen from Grace)
Non-Fiction
After the Fall
Be Hopeful (1 Peter): How to Make the Best of Times Out of Your Worst of Times
Newborn Photography Made Easy
Declutter Your Home in 10 Days
Declutter Your Life: Reduce Stress, Increase Productivity, and Enjoy Your Clutter-Free Life
How to Become the Jack of All Travel: A Beginner's Guide to Traveling the World for Free
Faith From 9 to 5: How to Overcome the Seven Deadly Sins and Live Your Faith at Work
After School Activities: Best Guide For Your Child
Cookbooks
Recipes from the 70s and 80s
Pasta Casserole – The Casserole Aficionado Pasta Recipe Cookbook\
Quick-Fix Salads – Fresh and Delicious Salads in 30 Minutes or Less
______________________________________________________________________________________________________
Remember that you do not need a Kindle e-reader to be able to read this book. You can read it on your PC, iPhone, iPad
, Blackberry and Android. Just download for free the appropriate application to be able to do that. Amazon changes prices without notice, so make sure to check that the kindle price it is still $0.00 before you start downloading this book.