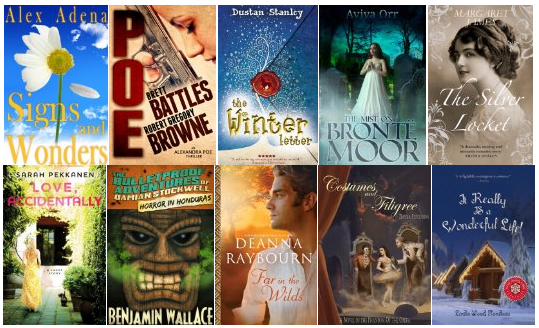 Thanks to my friend and fellow blogger Jessica over at Living Chic on the Cheap you'll be able to check out this huge list of free kindle books currently available.
Please note that Amazon changes their offers without notice, so please make sure they are still free before you start downloading them:
Fiction
Mystery, Suspense & Action
Poe
Sedition. A Political Thriller
Wanted with Murder
Romance
MONTANA REUNION
Love, Accidentally: An eShort Story
Paranormal, Fantasy & Science Fiction
Dark Space
Gifted, A Donovan Circus Novel
Christian, Religious & Historical
Far in the Wilds
From a HEAVENLY LAND
Costumes and Filigree: A Novel of the Phantom of the Opera
Contemporary
Somewhere West of Roads
Endless Vacation
Classics
This Side of Paradise
Children
Mrs. Claus and The School of Christmas Spirit
The Tales of Big and Little: Doom of the Three Stones
Preteens
Your First Dog! A Children's Book About Owning & Caring For Dogs
The Last Voyage of the Mermaid
Young Adult
The Mist on Bronte Moor
Moonlit
Non-Fiction
The ABCs of Money
The Myth of the Garage
Dear Bob and Sue
Unfriend Yourself: Three Days to Detox, Discern, and Decide About Social Media
Cookbooks
25 Dutch Oven Recipes For The Vegetaria)
30 Nutritious Snacks That Keep You Feeling Full and Help You Easily Lose Weight
__________________________________________________________________________________________________

Remember that you do not need a Kindle e-reader to be able to read this book. You can read it on your PC, iPhone, iPad
, Blackberry and Android. Just download for free the appropriate application to be able to do that. Amazon changes prices without notice, so make sure to check that the kindle price it is still $0.00 before you start downloading this book.