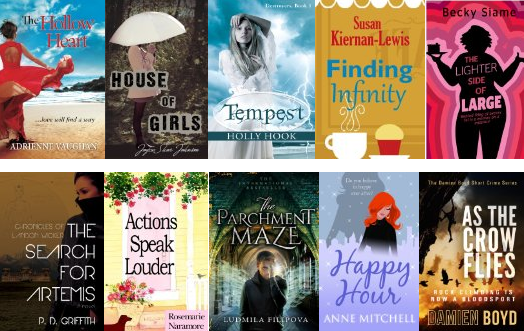 Thanks to my friend and fellow blogger Jessica over at Living Chic on the Cheap you'll be able to check out this huge list of free kindle books currently available.
Please note that Amazon changes their offers without notice, so please make sure they are still free before you start downloading them:
Fiction
Mystery, Suspense & Action
The Parchment Maze
Romance
Actions Speak Louder
Paranormal, Fantasy & Science Fiction
Holly and Her Naughty eReader
At First Touch
Christian, Religious & Historical
Contemporary
Finding Infinity
Happy Hour
Helping Karma
San Francisco Summer '69
House Of Girls
The Lighter Side of Large
Classics
Bleak House
Children's
The Day I Met Dr. Seuss
Kangaroo Kangaroo Where Are You?
A Dog Star in the Making: My Name is Truffles
Cassie and The Wild Cat: Bug in the Rug
Preteens
The Hunt for the Well Hidden Treasure
Young Adult
Dead Girls Never Shut Up
Non-Fiction
Love Works: Seven Timeless Principles for Effective Leaders
The Grace Outpouring: Blessing Others through Prayer
Bringing up Boys of Character: 12 Core Virtues Decoded for ages 4-9
The Frugal Life: The Simple Path to Living a Good Life on a Budget
Quick and Easy Ideas Decorations for Baby Showers
Beginning at The End (Finding God When Your World Falls Apart)
Cookbooks
Ten Paleo-tastic Desserts
Slow Cooker Comfort Foods
Deliciously Sweet Splenda Recipes
The Economy Driven Cookbook
__________________________________________________________________________________________________

Remember that you do not need a Kindle e-reader to be able to read this book. You can read it on your PC, iPhone, iPad
, Blackberry and Android. Just download for free the appropriate application to be able to do that. Amazon changes prices without notice, so make sure to check that the kindle price it is still $0.00 before you start downloading this book.