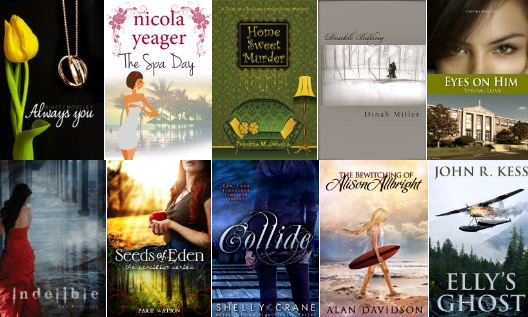 Thanks to my friend and fellow blogger Jessica over at Living Chic on the Cheap you'll be able to check out this huge list of free kindle books currently available.
Please note that Amazon changes their offers without notice, so please make sure they are still free before you start downloading them:
Fiction
Mystery, Suspense & Action
Double Billing
Frozen Past
Elly's Ghost
Romance
Always You
Pic Jump
Paranormal, Fantasy & Science Fiction
The Forgotten Queen
Soul Mates
Halfkinds Volume 1: Contact
Christian, Religious & Historical
Telegram
Eyes On Him: Spring Love
Contemporary
The Boots My Mother Gave Me
The Spa Day
Her Team
Classics
Anthem
Children's
Pirates of the Alphabet: Pirate ABCs
Alice & Jimmy In The Kingdom Of Ants
Bearly Escaped
Baskin and Greel Discover Friendship
Colin And The Cheeky Pigs
Cactus Charlie
Dancing Daisy Goes To The Dentist
Preteens
Logic to the Rescue
Young Adult
THE BEWITCHING OF ALISON ALLBRIGHT
Jump When Ready
Non-Fiction
Fearless Beauty: A Woman's Guide to Living Bold, Beautiful & Free
Faith and Finance: Peace With or Without Prosperity
Memory Makers For the Family: Creating Unforgettable Moments
Cookbooks
Recipes With Honey – For All Seasons
Gluten Free Slow Cooker Recipes
______________________________________________________________________________________________________

Remember that you do not need a Kindle e-reader to be able to read this book. You can read it on your PC, iPhone, iPad
, Blackberry and Android. Just download for free the appropriate application to be able to do that. Amazon changes prices without notice, so make sure to check that the kindle price it is still $0.00 before you start downloading this book.