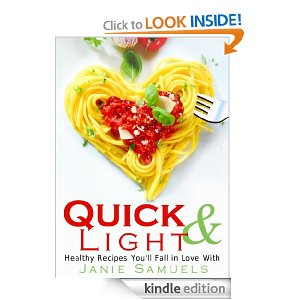 Dinner ready in 30 minutes or less? Yes please!  Get some of quick and easy dinner recipes in this ebook [easyazon-link asin="B008XT87UU"]Quick and Light: Healthy Recipes You'll Fall in Love With[/easyazon-link] available for free in kindle format right now.
Some of the recipes include:
Pecan-Crusted Chicken
Chicken Piccata
Blue Cheese Chicken Rollups
Rosemary Turkey Cutlets
Turkey Biryani
Smothered Burgers with Brown Gravy
Filet Mignon with Creamy Horseradish Sauce
Greek Lamb Chops
Pork Chops with Sweet and Spicy Peppers
Sweet and Sour Shrimp
Almost Sinful Scampi
"Fried" Catfish with Spicy Tartar Sauce
Dijon-Roasted Salmon
Roasted Tilapia with Feta and Fresh Tomatoes
Baked Crabmeat Casserole
Fresh Tomato and Basil Pasta
Cheesy Zucchini Rotini
Spicy Teriyaki Tofu
Peanutty Pasta
Guilt-free Fettuccine Alfredo
Please note this kindle book is free to anyone at the moment. But Amazon changes their offers without notice. Please make sure it is still free before you start downloading it.
Remember that you do not need a Kindle e-reader to be able to read this book. You can read it on your PC, iPhone, iPad
, Blackberry and Android. Just download for free the appropriate application to be able to do that. Amazon changes prices without notice, so make sure to check that the kindle price it is still $0.00 before you start downloading this book.