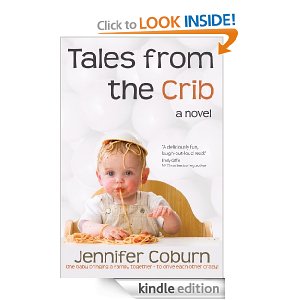 Have a laugh with this supposedly funny ebook [easyazon-link asin="B0097SNQSY"]Tales from the Crib[/easyazon-link] from Jennifer Coburn.  It is FREE in kindle format at the moment.  Admittedly the book description sounds a bit depressing but its supposed to be funny and it is all about the journey towards a happily ever after.
Book Description:

When Lucy Klein gets her positive pregnancy results, she's overjoyed. She and her husband Jack have been trying to get pregnant for years throughout their rocky marriage. But before she can tell him the big news, Jack has something he needs to announce – he wants a divorce!
Rather than split up, Lucy and Jack decide to live together as friends. This way, they can share expenses and parenting responsibilities. Co-parenting is a fine deal for Jack who is back in the dating scene by Lucy's third trimester of pregnancy, but is a frustrating one for Lucy who has unfulfilled sexual fantasies about every man from restaurant delivery boys to puppeteers.

Meanwhile, Lucy's mother is taking over her life. The grand dame of Planet Earth, Anjoli frequently visits her daughter to share her own brand of maternal wisdom.

As Anjoli leaves her Drama Queen bookstore to "help" Lucy with baby Adam, the new grandmother has an affair with baby's pediatrician, hosts two weddings (including cousin Kimmy's wedding to herself), and constantly frets about which kind of pie to serve guests. With a cast of family and friends from Lucy's Jewish aunts to Junior League neighbor, Candace, Tales From the Crib is the story of how one baby can bring people together – so they can drive each other nuts!
Please note this kindle book is free to anyone at the moment. But Amazon changes their offers without notice. Please make sure it is still free before you start downloading it.
Remember that you do not need a Kindle e-reader to be able to read this book. You can read it on your PC, iPhone, iPad
, Blackberry and Android. Just download for free the appropriate application to be able to do that. Amazon changes prices without notice, so make sure to check that the kindle price it is still $0.00 before you start downloading this book.