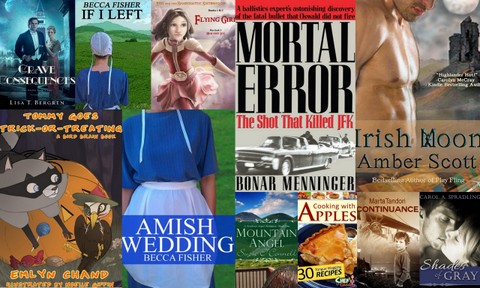 Every day Amazon offers a selection of Romance, Science Fiction, Fantasy and Teen titles at a discounted price.
Kindle Daily Deals – Each day they unveil new Kindle book deals for adults and young readers with prices usually ranging $1.99-$2.99. These are only discounted for today.

Kindle Monthly Deals – Each month they unveil a new collection of 100 Kindle books for $3.99 or less.
Thanks To Rose Knows Coupons here are some FREE kindle titles available for download at the moment:
Romance

Mountain Angel (Northstar Angels, Book One)
Grave Consequences: A Novel (Grand Tour Series)
Irish Moon (Moon Magick Series)
All I Want for Christmas is You (Contemporary Holiday Romance) (Fate with a Helping Hand)
The Academy – Introductions (Year One, Book One) (The Academy Series)
Contemporary
New Beginnings (Look to the Future)
Bigger (The Nicky Beets series)
Historical
Mortal Error: The Shot That Killed JFK
The Wisdom of the Native American Indians
Christian, Religious & Inspirational
Standing Strong: How to Resist the Enemy of Your Soul
A Cupcake Christian and Other Devotionals
Young Adult
Perfect Forgiveness (Deep River High: Book Two)
The Moon Dwellers (The Dwellers Saga)
Mystery, Suspense & Action
Strong Spirits (A Daisy Gumm Majesty Mystery, Book 1)
Paranormal, Fantasy & Science Fiction
Hot Blooded Episode 1: The Prodigal Prince (Supernatural Thriller Series)
A Death Displaced: A Paranormal Suspense/Contemporary Fantasy Novel (Lansin Island 1)
A Soul To Steal (The Sanheim Chronicles, Book One)
Children's
Scrolls of Zndaria: The Golden Wizard (A magical epic adventure)
Flying Girl (Egg and the Hameggattic Sisterhood – Books 1 & 2)
Tommy Goes Trick-or-Treating (Bird Brain Books)
Samantha Green and the Case of the Haunted Pumpkin (Samantha Green Mysteries)
Biographies & Memoirs
turning 44 …living beyond his years
The Wrong Man: Who Ordered the Murder of Gambler Herman Rosenthal and Why
Cookbooks
Canology – A Beginner's Guide To Canning & Preserving Locally-Grown Natural Foods
100 Bundt and Tube Pan Cake Recipes
Fun and Tasty Recipes for Kids: Simple Recipes You and Your Children Will Love

Remember that you do not need a Kindle e-reader to be able to read this book. You can read it on your PC, iPhone, iPad
, Blackberry and Android. Just download for free the appropriate application to be able to do that. Amazon changes prices without notice, so make sure to check that the kindle price it is still $0.00 before you start downloading this book.