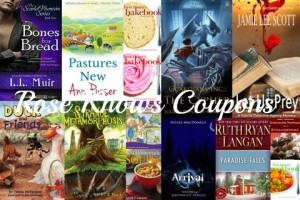 Every day Amazon offers a selection of Romance, Science Fiction, Fantasy and Teen titles at a discounted price. Kindle Daily Deals – Each day they unveil new Kindle book deals for adults and young readers with prices usually ranging $1.99-$2.99. These are only discounted for today.

Kindle Monthly Deals – Each month they unveil a new collection of 100 Kindle books for $3.99 or less. This list of free Kindle eBooks was created by Rose Knows Coupons. A big thanks to her for creating this list every weekday!
Contemporary & Romance 
Paradise Falls
Wall of Doom 1 (Epic Fantasy) (Saga of the de Magela Family)
Bones for Bread (The Scarlet Plumiere #2)
Mail Order Maggie (Mail Order Brides #2)
A Wild Night's Encounter : Friend Zone 1
Hearts Aflame Collection: 4-Book Bundle
The Arrival (BirthRight Trilogy)
Historical
Hamfist Down!: Evasion, Survival and Combat in the Jungle (Hamfist Trilogy Part 2)
Christian, Religious & Inspirational
The Sun Seeking Light: Ending The Search For Spiritual Enlightenment
Young Adult
The Grimm Diaries Prequels volume 1- 6: Snow White Blood Red, Ashes to Ashes & Cinder to Cinder, Beauty Never Dies, Ladle Rat Rotten Hut, Mary Mary Quite Contrary, Blood Apples
Strange Metamorphosis (Fantasy Adventure Novel)
Mystery, Suspense & Action
Crescent City Connection: An Action-Packed New Orleans Mystery; Skip Langdon #7 (The Skip Langdon Series)
Scherzo: Murder and Mystery in 18th Century Venice
The Company You Keep (Kendra Clayton Mystery #1) (Kendra Clayton Series)
Let Us Prey (Book 1, Gotcha Detective Agency Mysteries) (Gotcha Detective Agency Series)
Paranormal, Fantasy & Science Fiction 
The Vampire's Warden (Undead in Brown County #1)
Nolander (Emanations, a science fantasy series)
Home, DIY, & Crafts
Homemade Soap Making – Simple DIY Recipes for Bar, Liquid, Dishwasher Soaps, Shampoo, Gels, & Detergent
Children's
Karen's Colorful Trip (A Gorgeous Illustrated Children's Picture Book) (Beginner Readers eBook Collection for Ages 2-8) (Children's Books Collection)
Bedtime Stories! Old Owl's Fairy Tales for Children: Folklore and Legends Picture Book for Kids about Magical Forest Animals (Bedtime Stories for Kids, Early Readers Books for Ages 4-8)
Betty's Dream Party (A Going to Sleep Picture Book) (Sweet Dreams Bedtime story for Ages 2-8) (Children's Books Collection)
Duck and Friends: The Dinosaur Bones
199 Quick Jokes for Kids! Joke Books for Kids
Guardians Inc.: The Cypher (Guardians Incorporated)
How To Conserve Resources (Survival Skills)
Biographies & Memoirs
Cookbooks
Food Preservation Book Package: Food Drying and Food Canning (2 Books)
Chocolate Truffles and Strawberries: Easy, Homemade Chocolate Gifts (Simply Delicious Cookbooks)
Food in Jars: From Jellies to Jams and Lunches to Desserts
The First Timer's Guide to Bread and Rolls (First Timer's Baking)
The First Timer's Guide to Cakes (First Timer's Baking)
The First Timer's Guide to Fruits and Vegetables (First Timer's Cooking)

Remember, though, that you do not need a Kindle e-reader to be able to read this book. You can read it on your PC, iPhone, iPad
, Blackberry and Android. Just download for free the appropriate application to be able to do that. Amazon changes prices without notice, so make sure to check that the kindle price it is still $0.00 before you start downloading this book.
As always, thanks, Rose Knows Coupons!