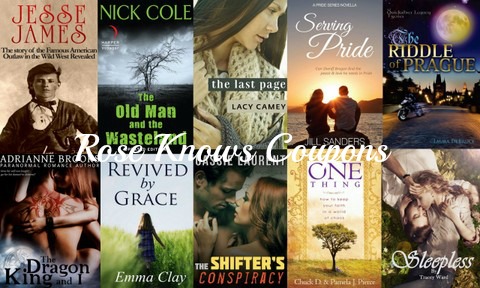 Every day Amazon offers a selection of Romance, Science Fiction, Fantasy and Teen titles at a discounted price. Kindle Daily Deals – Each day they unveil new Kindle book deals for adults and young readers with prices usually ranging $1.99-$2.99. These are only discounted for today.

Kindle Monthly Deals – Each month they unveil a new collection of 100 Kindle books for $3.99 or less. This list of free Kindle eBooks was created by Rose Knows Coupons. A big thanks to her for creating this list every weekday!
Romance & Contemporary
The Shifter's Conspiracy (Paranormal BBW Werewolf Romance Novella)
Birdy Madison: Western Romance Action Book

A Marriage of Convenience (Married to a Prince)
Serving Pride (A Pride Series Romance Novella)
Reckless For Cowboy (Stampede Sizzlers)
Happy Birthday to Me (Birthday Trilogy, Book 1)
Historical
World History Timeline – Volume I – From the Rise of Humanity to the Fall of Rome
Commander of the Seas (A John Paul Jones Adventure)
Jesse James: The story of the Famous American Outlaw in the Wild West Revealed (Jesse James, Frank James, Outlaw, Shot All to Hell, Wild West, Last Rebel, Civil War, Robert Ford)
Christian, Religious & Inspirational
One Thing: How to Keep Your Faith in a World of Chaos
Revived by Grace (Journey of Grace)
Self-Mastery: Personal Empowerment for Creating the Life You Desire
Young Adult
The Last Page (YA & New Adult Romantic Comedy) (Living, Loving and Laughing Again)
The Riddle of Prague (QuickSilver Legacy Series)
Mystery, Suspense & Action
Just The Pits (Hetta Coffey Series)
A Corpse In A Teacup: A Tuesday's Tea Leaves Mystery, a Cozy Mystery with Female Sleuth Tuesday the Tea Leaf Reader
The Advocate (The Advocate Series)
Bad Wolf (Bad Wolf Chronicles: Book 1)
Paranormal, Fantasy & Science Fiction
The Old Man and the Wasteland: Updated Edition (Revised)
Nolander (Emanations, a science fantasy series)
Celtic Storms, Book 1 in the Celtic Steel Series
Home, DIY, & Crafts
Family Christmas: Simple Christmas ideas to bring the joy back into the holidays (A Christmas Ideas Book)
Children's
Brayden Rider: Tales of a Medieval Boy
One Tree: A Humorous Picture Book for Kids 4-8 Years Old (The Tree Series)
Attack at Shark Bay – a thrilling, children's adventure set in New Zealand, in the South Pacific, for kids aged 8 -14 (Riwaka Gang Adventures series)
Weather Book for Kids: Fun Facts Childrens Weather Book; Storms, The Water Cycle, Activities, Jokes, FAQ & More
Biographies & Memoirs
Riding off the Edge of the Map
Released to Kill Again: The Stories of 7 Criminals Convicted of Murder, Released and Murdered Again (True Crime Series)
The Summer Called Angel: A story of hope on the journey through prematurity
Cookbooks
Game Day Appetizers and Super Snacks (Delicious Recipes)
Muffins (Sweet and Savory Muffin Recipes, Butter Spreads)
Smoothie Recipes for Health Smoothies: 73 Smoothies Specific for 14 Ailments (Superfoods Series)
An Easy Guide to Cornbread : Delicious Recipes, Advice, and More!
Incredibly Delicious Christmas Cookies from the Mediterranean Region (Classic Dessert Series)

Remember, though, that you do not need a Kindle e-reader to be able to read this book. You can read it on your PC, iPhone, iPad
, Blackberry and Android. Just download for free the appropriate application to be able to do that. Amazon changes prices without notice, so make sure to check that the kindle price it is still $0.00 before you start downloading this book.
As always, thanks, Rose Knows Coupons!