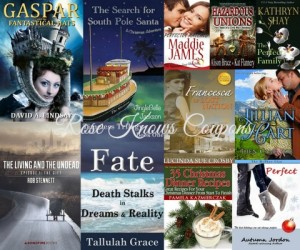 Every day Amazon offers a selection of Romance, Science Fiction, Fantasy and Teen titles at a discounted price. Kindle Daily Deals – Each day they unveil new Kindle book deals for adults and young readers with prices usually ranging $1.99-$2.99. These are only discounted for today.

Kindle Monthly Deals – Each month they unveil a new collection of 100 Kindle books for $3.99 or less. This list of free Kindle eBooks was created by Rose Knows Coupons. A big thanks to her for creating this list every weekday!
Contemporary & Romance
PERFECT ( A Christmas Romance)
The Bride Wore Blue (Brides of Bath, Book 1)
Timeless Trilogy, Book One, Fate
Once More From the Top (The Women of Willow Bay)
Then Came You: A Prequel to The McPhee Clan
Hazardous Unions: Two Tales of a Civil War Christmas
Historical
Lincoln at Peoria: The Turning Point
The Great War at Sea: 1914 – 1918
Christian, Religious & Inspirational
The Living and the Undead: Episode 1: The Gift
Young Adult
Bastial Energy (The Rhythm of Rivalry: Book 1)
A March of Kings (Book #2 in the Sorcerer's Ring)
Deadly Misfortune: Book Two in the Quintspinner Trilogy (Quintspinner Series)
Saving Wishes (The Wishes Series #1)
Mystery, Suspense & Action
Itsy Bitsy Spider (Emma Frost #1)
Conundrum (an Iris Reid mystery)
The Last Track: A Mike Brody Novel
The Silversmith (A David Wolf Thriller)
Paranormal, Fantasy & Science Fiction
The Cestus Concern: Weir Codex Book 1
The Fire Opal (A dark fantasy novel)
Gaspar And The Fantastical Hats
Ashes of Honor (The Griffin Series: Book 1)
Home, DIY, & Crafts
Quilts for Beginners: a How-to Book of Quilting Supplies, How-to-Quilt Techniques, and Quilt Patterns
The Best of the Midwest STITCHES Fashion Show: 7 Inspiring Free Shawl Patterns, Knit Tops & More
Children's
The Search for South Pole Santa: A Christmas Adventure
Jane Bakes a Pumpkin Pie: Pumpkin Pie Recipe Rhyming Book (A Thanksgiving Children's Picture Book for Ages 2-8)
Time to Eat, Bunny! (Time for Bunny!)
The Knight Who Wouldn't Sleep: A Bedtime Book (Rhyming Children's Book Ages 2-7) (Bedtime Rhymes Series)
Biographies & Memoirs
Antiques Don't Bounce (books on antiques)
Grandpa, Were You Young Once?: A look at who we were, what we did, what we learned and how times have changed for our grandkids
INDIA ADVENTURE STORIES VOLUME ONE
Cookbooks
Cranberries: Delicious, Mouth-Watering Recipes for Every Day
Winter Soup Recipes: It's the ultimate comfort food and full of goodness
Low-Fat Vegan Recipes: 125 Fast and Easy Low-Fat Vegan Recipes to Excite Your Taste Buds

Remember, though, that you do not need a Kindle e-reader to be able to read this book. You can read it on your PC, iPhone, iPad
, Blackberry and Android. Just download for free the appropriate application to be able to do that. Amazon changes prices without notice, so make sure to check that the kindle price it is still $0.00 before you start downloading this book.
As always, thanks, Rose Knows Coupons!