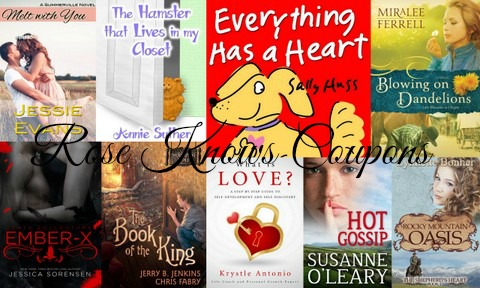 Every day Amazon offers a selection of Romance, Science Fiction, Fantasy and Teen titles at a discounted price. Kindle Daily Deals – Each day they unveil new Kindle book deals for adults and young readers with prices usually ranging $1.99-$2.99. These are only discounted for today.

Kindle Monthly Deals – Each month they unveil a new collection of 100 Kindle books for $3.99 or less. This list of free Kindle eBooks was created by Rose Knows Coupons. A big thanks to her for creating this list every weekday!
Contemporary & Romance
Too Much Sun (a coming of age classic)
Writing Our Song: A Billionaire Romance
Hot Gossip (Irish romantic comedy)
Rocky Mountain Oasis (The Shepherd's Heart – Christian Historical Romance)
Blowing on Dandelions: A Novel (Love Blossoms in Oregon Series)
Make it Rain (The Montclair Brothers)
Lanterns and Lace (Texas Legacy)
Melt With You (Fire and Icing)
Love by Deception (Age of Innocence)
Paranormal Romance
The Dream Jumper's Promise (Dream Jumper Series)
Becoming Red (The Becoming Novels)
Ember X (Death Collectors, #1)
Christian, Religious, and Inspirational
One Month of the Well-Watered Life Devotional: 31 Days of Resting in God's Presence
Young Adult
Illusory Love (Illusory Love, #1)
CLOCKWISE (book one in the Clockwise series)
Mystery, Suspense, & Action
Jackpot (Frank Renzi mystery series)

Muleshoe (a Mike Bishop Novel)
The House of the Wicked (a psychological thriller combining mystery, murder, crime and suspense)
Paranormal, Fantasy, & Sci-Fi
Dead City (Book 1 of the Zombie D.O.A. Series)
The Concrete Grove (The Concrete Grove Trilogy)
Self-Help & DIY
Woman's Body Language Revealed! Know how to read her and improve attraction, dating, flirting and much more!
How To Diagnose Your Character: Using Psychology To Create an In-Depth Character
What is Love?: A Step-By-Step Guide to Self-Development and Self-Discovery
Stretch Your Paycheck to the Max! How Us 99 Percenters Can Get More Bang For Our Buck
Children's
51 Fitness and Yoga Exercises for Kids Family Fun in 5 Minutes or Less. For Ages 4+
EVERYTHING HAS A HEART (Fun, Adorable, Rhyming Bedtime Story/Picture Book, about Hearts and Valentines, ages 2-6)
The Book of the King: 1 (The Wormling)
The Alligator Who Wanted To Be A Dog (WantsToBe)
Waffles Chronicles: The Hamster that Lives in my Closet
Biographies & Memoirs
Maximum Insecurity: A Doctor in the Supermax
Cookbooks
50 Easy Frozen Ice Pop Recipes – The Ice Pops Cookbook (The Summer Dessert Recipes And The Best Dessert Recipes Collection)
Smoothie Recipes: 101 Delicious Smoothie Recipes for Weight Loss, Detox, and Energy Rejuvenation (Smoothie Recipes – The Only Smoothie Recipe Book You Need)
Gluten Free Diet: The Beginners Guide to Going Gluten Free and Grain Free (Gluten Free Diet Guide – Lose Weight, Alleviate Allergies, Combat Disease, and Experience Amazing Health)
31 Easy Fish Recipes – So Delicious the Whole Family Would ask for More!
Remember, a Kindle is not required to read these books! You can get a FREE Kindle app for your iPod/iPhone, PC, MAC, Blackberry, Windows Phone 7, Android, iPad, and Android tablet

Remember, though, that you do not need a Kindle e-reader to be able to read this book. You can read it on your PC, iPhone, iPad
, Blackberry and Android. Just download for free the appropriate application to be able to do that. Amazon changes prices without notice, so make sure to check that the kindle price it is still $0.00 before you start downloading this book.
As always, thanks, Rose Knows Coupons!