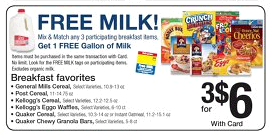 Make sure you check your Kroger ad for complete details on this deal…
It's not everyday you get the chance to snag some FREE milk, so this week's Kroger deal is definitely worth looking into. You can mix and match any three breakfast items (3 for $6) and get a free gallon of milk when you use your card. Not a bad price for the breakfast items, and the free milk just sweetens the deal!
Here are the participating products:
General Mills Cereal, Select Varieties, 10.9-13 oz
Post Cereal, 11-14.75 oz
Kellogg's Cereal, Select Varieties, 12.2-12.5 oz
Kellogg's Eggo Waffles, Select Varieties, 6-10 ct
Quaker Cereal, Select Varieties, 10.3-14 oz
Quaker Instant Oatmeal, 11.2-15.1 oz
Quaker Chewy Granola Bars, Select Varieties, 5-8 ct.
Here are some great coupons you can use to get an even better deal:
$1.00/1 General Mills Big G Cereal (3/2/14 SS)
$1.00/3 General Mills Big G Cereals (3/2/14 SS)