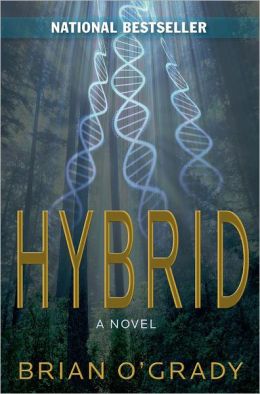 It's Free Friday for Nook book owners!
Every Friday, you can download a free Nook book and Nook app. If you don't have a Nook, you can NOOK GlowLight for only $99 or download the free Nook reading app.
Today's Nook Friday freebie is Hybrid
by Brian O'Grady.
THE MOST HORRIFYING VIRUS THE WORLD HAS EVER KNOWN.
IT'S WORSE THAN LETHAL. IT'S EVIL.

Seven years ago, Amanda Flynn returned from a Honduran camp as the sole survivor of a mysterious new virus known as EDH1. Most of its victims die a gruesome, agonizing death. Others become violent savages. But a precious few, like Amanda, survive . . . and change.

Amanda escaped from a three-month quarantine because the virus made
her different, superior. She can sense things, do things, using only her mind – and these abilities tempt her to test their limits. To harm. Even, though she may resist, to kill. Now, an outbreak of violent deaths in a peaceful Colorado town leads Amanda to suspect that a mutated EDH1 has arrived in America. The virologists she warns want her back, for her immunity may be the only key to its defeat. But no lab can hold her. Not while she wields the power.

And now there is another. A man of menace: tall, amoral, relentless. His mission is nothing less than the end of human society – and the birth of a new order forged of his own will. He has the power, too. And, armed with his own store of virulent death, he is coming.
You can also get a bonus freebie today: The Strange Case of Dr. Jekyll and Mr. Hyde
by Robert Louis Stevenson.
Here are some other Nook freebies you might be interested in today:
Don't forget to check out these deals each day: