Want to order from Amazon but afraid it won't make it in time for Christmas? Well, starting today, you can get FREE one-day shipping on all sorts of items! Just make sure that the order qualifies for free one-day shipping by looking for the note under certain items. It should look like this…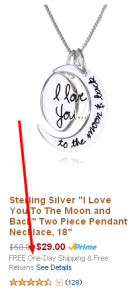 Make sure you check out all the items that qualify for Amazon free one-day shipping! You might find some great last minute gifts.
Don't forget – you can also get a free gift box and free one day shipping when you buy an Amazon gift card too!