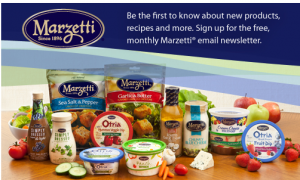 Marzetti® products are tasty, convenient and versatile. Find out even more ways to use Marzetti® products when you sign up for the free Marzetti® email newsletter. Get tasty recipes, great tips, and money-saving coupons delivered right to your inbox each month.
After you sign up, you'll also have access to some valuable printable coupons.
Tip: If you use Gmail, you can filter all of your recipe and coupon newsletters into a separate category, so you won't be overwhelmed with emails each day.