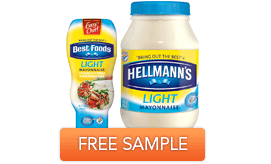 Get a free sample of Best Foods/Hellmans mayo from Vive Mejor. Vive Mejor is a website owned by Unilever the manufacturer of the brand. Even though the website's name is in Spanish, the offer is in English and it is open to ALL U.S. Residents.
In addition to this sample they are also offering the following three samples:
Caress® Skinwear Collection
New Degree® Women Fine Fragrance Collection
Thanks Mojo Savings!!